Skins Game Limited Editions for sale!
Get one of only 42 giclee canvas prints HERE
Get one of only 500 gloss museum paper prints HERE
Sports Wildlife Artist
Sports wildlife artist, Christiaan Bekker, creates realistic art pieces. First of all, his paintings have a touch of abstractionism with rich colors. However, the artistic strokes with his knives leaves an authentic feel of original art. This is an opportunity to buy wildlife and sports paintings directly from the artist. Furthermore, high quality canvas and gloss prints are also available for sale.
The artist also offers personalized paintings on easy monthly installments with a low down payment. Commission a custom oil painting on canvas by world renown artist on a credit line. Have a look at multiple pieces already commissioned by art collectors and establishments just like the University of Alabama.
You can also order a custom painting created just for you! Your unique ideas or your own exclusive picture that may include any subject. Animals, people, landmarks, sea and landscapes.
Interested in buying art prints?
Visit the
our store
What is new by the sports wildlife artist?
Christiaan Bekker created this colorful male lion on the attack. The original oil painting is 24″ x 30″ in size. An aggressive glimpse at an African lion charging it's prey. Prints now available in our Art Store.
Original works of art and high quality prints
---
African Elephant print in New Jersey

Recent news – A print of this painting is now hanging at the New Jersey State House in Trenton, NJ – USA
---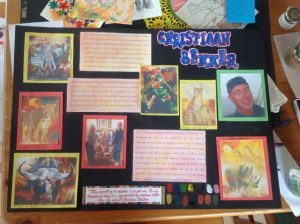 "Hi, my name is Meghan Finnan and I'm 16 years old. This year I'm doing my junior cert (exams in Ireland), and as part of my final project for art. I had to pick an artist that inspired my project and I picked you.
My project is based on elephants and when I was researching artists paintings that I liked. I came across one of yours that I absolutely loved. Just wanted to let you know that I love your work, and tell you that it inspired me to create my own!"